I'm not the only one in the GFWC Grundy Woman's Club who has received one of Shirley Belcher's famous gifts. She's well known throughout the community for her thoughtfulness.
However, a few months ago, I was amazed at the insight and timing when I received this: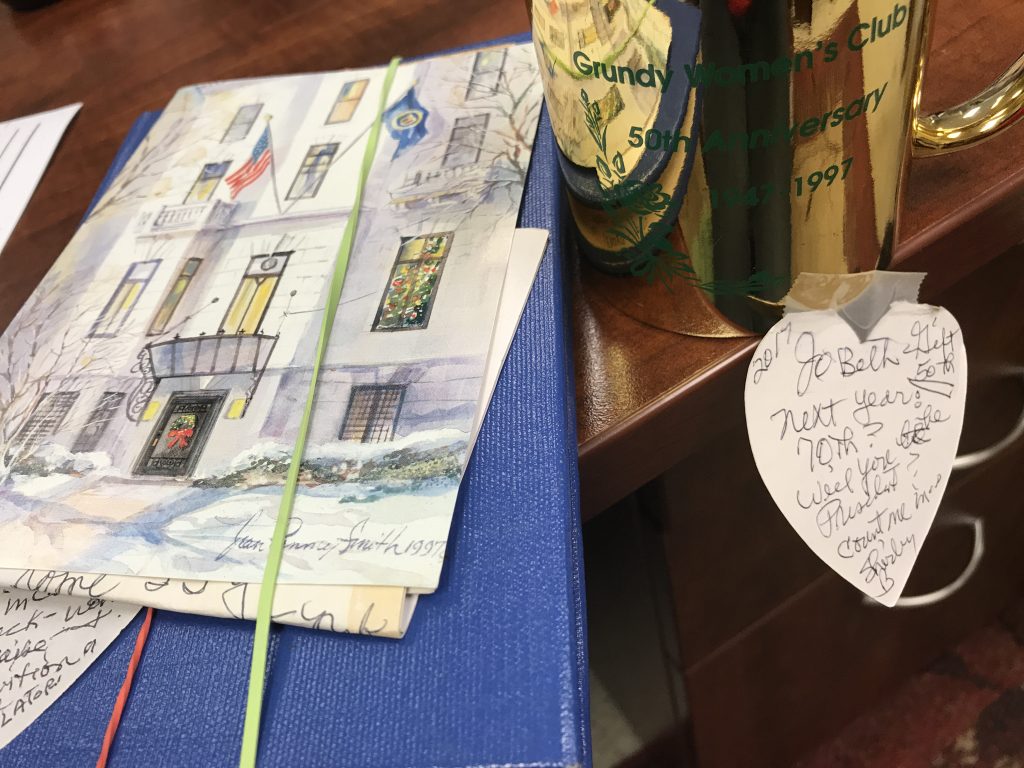 Shirley and I share a special bond – we're both autism parents; though, her experience came long before mine and during a time when Temple Grandin was still just a child. Along with a beautiful handwritten note, she brought me a book and mug. The book – titled 'Dibs in Search of Self' by Virginia M. Axline – was particularly interesting to Shirley, who didn't identify her child as autistic until many years later. It focuses on personal development in play therapy. Interestingly enough, I've often found older books can be amazingly perceptive in regards to autism; so, I was delighted.
And then, I noticed the mug. A 50th anniversary mug, it was given out back in 1997 when I wasn't yet walking the halls of my local high school. Shirley presented it to me with a little heart-shaped note attached, asking if, as the Club celebrates its 70th anniversary, "Will you be president?" She continued, "Count me in!"
Maybe not everyone feels this way, stepping into the position of president, but I felt such a sense of pressure. Thoughts run through your mind, no matter how great your fellow clubwomen are because you don't want to let them down. Then, insecurities rise up and nearly choke you with feelings of not being good enough or with the agony of not being liked by everyone.
At least, that's how I felt.
So I called my predecessor Glenna and asked her. Of course, I wasn't quite sure how to word it, but she understood immediately.
"An overwhelming feeling," she said. And that was exactly it.
Acknowledging that I'm not the only person who's felt this way, it was a relief to know I was in good company. But later, when I asked two other past presidents, their reactions were completely different. They were almost shocked!
Being president doesn't mean doing it all by yourself, Sandy said. And her mom Betty agreed.
Oftentimes, we think leadership has to do with trainings and seminars. But leading doesn't mean preparing to grab the bull by the horns alone. It's about working together.
They pointed out there will always be naysayers; but, as Betty shared, you have to learn how to lock them up in the closet. Metaphorically speaking, of course. You know your own motivations and your reasons for making the decisions you choose, she said. Have faith in them and continue pushing forward.
Today, Shirley's words are in the back of my mind, lifting me up and reminding me that I'm not doing this alone. And that beats any workshop I've ever seen offered.
We're nearly 50 members strong and we'll do this together.
So bring it on, 2018. Count us in.