Published in the Virginia Mountaineer on May 15, 2014.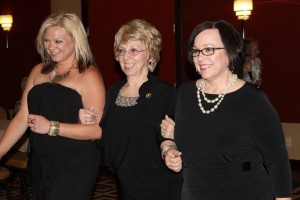 Shields Seated as State GFWC President
by JoBeth Wampler
Virginia Mountaineer
For the first time in history, a Buchanan County woman is state president of the General Federation of Women's Clubs.
"I wasn't shooting for this," says Betty Shields, of Grundy. "It was not my goal. It was not my aim at all."
Recently installed as the GFWC Virginia President at the state convention in Roanoke, she is only the fourth woman from the Southwestern District of Virginia to serve in this role. The others resided in Coeburn, Hillsville, Tazewell and Lebanon, with the most recent holding her term over 30 years ago.
After her daughter Sandy Stiltner, also of Buchanan County and a member of the Grundy Woman's Club, was elected Southwestern District President a little more than two years ago, Shields threw her hat in the ring for the position of secretary of the GFWC Virginia club.
Little did she know, she would later be chosen as GFWC Virginia President.
Humbly, Shields says she doesn't believe she's earned the position; however, her background tells a different story.
It was 1979 when she found herself an empty-nester. Both of her daughters had graduated and left home and Shields, who defines herself as "a doer," found herself with nothing to do.
An opportunity soon came knocking, presenting her with the chance to work with the American Red Cross Blood Mobile.
At the time, the late Dr. Penn's wife Kathy, who was an active member of the Grundy Woman's Club, had been working with the Blood Mobile and invited Shields to her first meeting.
"I've been going ever since," she laughs. "And I enjoy doing the types of things that we do […] I like to be involved in doing things."
Remembering some of the club's past adventures, she says she was one of the women who stood out in the middle of the road in downtown Grundy, asking passing drivers for donations for the American Cancer Society.
Active with the Grundy Woman's Club for 35 years, she has served as a past president, secretary, treasurer, newsletter editor, and public relations chairman. She was also the second GFWC Virginia Southwestern District President to hail from Buchanan County, following fellow Grundy Woman's Club member Ginger Robertson.
Since her term as Southwestern District President, three other Grundy Woman's Club members have served in the position: Anna Ruth Coleman, her daughter Sandy Stiltner and the current Virginia Southwestern District President Tania Stephens.
But Shields insists, "It's not about me. It's like here's a job and I'll do the best I can with it and try to enjoy doing it."
Currently working on the state conference for this summer in Fredericksburg, she is also planning official visits to each of the state's eight districts during her term.
Additionally, as state president, she chose Breast Cancer Awareness as her primary cause during her two-year term after she was diagnosed with an early stage breast cancer in 1986.
Shields and her husband Jerry live in Grundy, where they are active members of Vansant Church of Christ. They have two daughters, Sandy Stiltner, of Grundy, and Pam Webb, of Greenville, S.C., and three grandchildren, Nikki and Catherine Stiltner, both clubwomen, and Andy Stiltner.
During the GFWC Virginia State Convention, the Grundy Woman's Club was commended with an award for the Best Single Health Project for their work with the Remote Area Medical Grundy Expedition, Best Overall Leadership, and Best Junior Special Single Project for their work with the Boys & Girls Club of Central Appalachia.
The General Federation of Women's Clubs (GFWC) is one of the world's oldest nonpartisan, nondenominational women's volunteer service organizations. Founded in 1890, the GFWC traces its roots back to Jane Cunningham Croly, an accomplished New York newspaperwoman.
According to the GFWC, Croly, furious that she and other women had been turned away at a banquet honoring Charles Dickens at the all-male New York Press Club in 1868, organized her a women's only club.
Though she and the other women who founded the club, which was named Sorosis, believed they were starting a new movement, they discovered many other women's clubs had formed, as well.
And after 20 years with Sorosis, Croly suggested women from some 61 women's clubs throughout the country meet together at a conference in New York. Thus, the General Federation of Women's Clubs was formed, adopting a constitution in 1890 and becoming chartered by the U.S. Congress in 1901.
For over 100 years, the GFWC has united women and encouraged them to use their unique skills and abilities to improve their communities through activities, community service, and education.
Beginning in 1890 with just a few small clubs, the GFWC has become an international organization of community-based volunteers in over 5,000 clubs in 50 states, plus the District of Columbia, Puerto Rico and 20 countries.