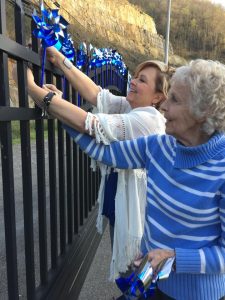 Annually in April, the GFWC Grundy Woman's Club adorns downtown Grundy in blue pinwheels. As an initiative of Pinwheels for Prevention, a campaign created by Prevent Child Abuse America, they represent the great childhoods we want for all children.
As a part of our effort, which includes planting Pinwheel Gardens throughout the area, we annually request ordinances passed in local government proclaiming April as Child Abuse Prevention Month in Buchanan County and the Town of Grundy. Each year, we've been grateful for the support of the Buchanan County Board of Supervisors and the Grundy Town Council for approving these measures and enabling us to promote awareness.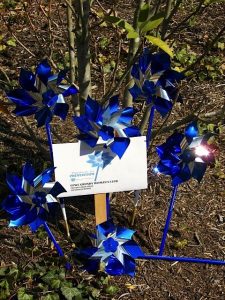 Our members annually contribute to the Buchanan County Domestic Violence Shelter, which offers a safe haven for victims of abuse and their families. In many cases, these men, women and children come to the shelter with only the clothes on their backs. Therefore, we regularly donate to the shelter care packages with essential comfort and hygienic items, as well as clothing, diapers, wipes and toys for children.
Spreading awareness through Pinwheels for Prevention allows us to draw attention to this need and expand the number of people donating to this worthy project.