The Grundy Woman's Club is a member of the
General Federation of Women's Clubs
, an international women's organization dedicated to community improvement by enhancing the lives of others through volunteer service, as well as its state affiliate,
GFWC Virginia
. Collectively, we are Living the Volunteer Spirit.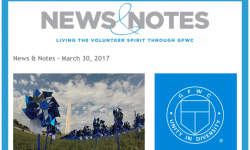 The GFWC Grundy Woman's Club is featured in this week's News & Notes! Be sure and check it out! The article focuses on Joshua, clubwoman JoBeth Wampler's son who was diagnosed with autism just before his third birthday.
During last week's monthly meeting, our ladies agreed to host the Buchanan County Autism Awareness 5K Walk/Run on Saturday, April 29 at the Bull Creek Pedestrian & Bike Trail in Harman, VA. In our third year, we're really excited to announce all proceeds will sponsor YMCA Swim Lessons for autistic children…