The Grundy Woman's Club is a member of the
General Federation of Women's Clubs
, an international women's organization dedicated to community improvement by enhancing the lives of others through volunteer service, as well as its state affiliate,
GFWC Virginia
. Collectively, we are Living the Volunteer Spirit.
Grundy Woman's Club members will be meeting at the Buchanan Presbyterian Church, located at 21223 Riverside Drive in Grundy, on Sept. 16 and Sept. 30 to clean medicine bottles for a club project. Beginning at 9 a.m., the pill bottle cleaning project won't be all work and no play. Members will…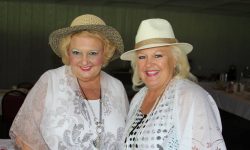 Won't you join us for a little tea and fellowship? The GFWC Grundy Woman's Club invites you to join us for our Annual Membership Tea & Luncheon at Willowbrook Country Club, Sunday, Sept. 17 from 2-4 p.m. For more information, visit our Facebook event page. The cost is $10 for dinner.